Drunk On A Bike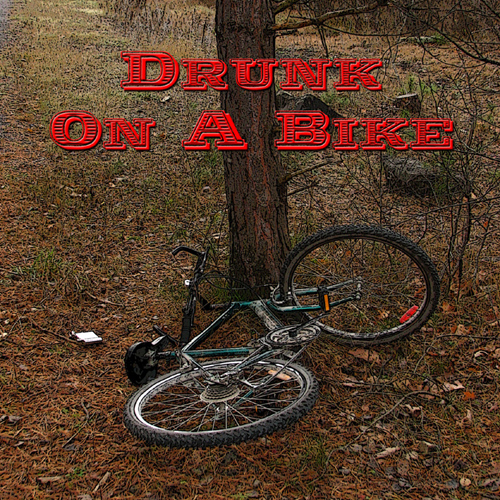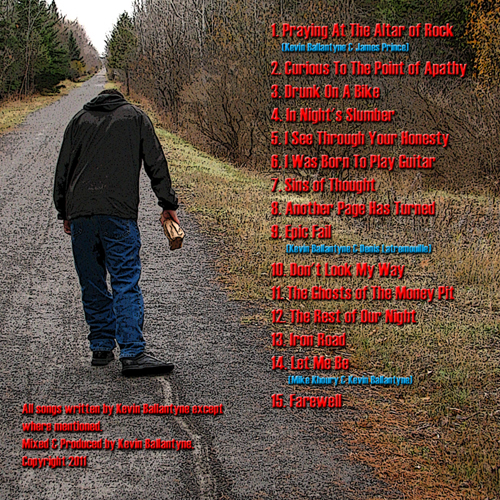 ---
Song List & Lyrics:
All songs written by Kevin Ballantyne except where noted
---
Since Drunk On A Bike is my first album, the songs cover the first 5 years of my writing. During this period, I was listening to a variety of genres which reflects in the types of styles I wrote, such as folk, rock, punk and even one heavy metal song ('Don't Look My Way').
As for the words, I usually wrote about personal experiences. The title for 'Praying At The Altar of Rock' was coined by a friend of mine at a Tragically Hip concert. The lyrics in the song reflect the experience of that concert. After losing my first full-time job, I wrote 'Another Page Has Turned', 'Epic Fail' and 'Farewell' as goodbyes... well except 'Epic Fail'.
Some songs were ideas that turned into stories. For the title track and 'I See Through Your Honesty', I either thought up the title, or heard it somewhere, and then created a story to go with it.
I also enjoy writing songs about historical events or places. In the case 'The Ghosts of The Money Pit', I wrote about the Oak Island Money Pit in Nova Scotia and one of its legends after I visited the island in 2009.
I was encouraged by my friends to give the album the title Drunk On A Bike in the hopes of selling more albums. Only time will tell.
---
All instruments played or arranged by Kevin Ballantyne
Mixed and produced by Kevin Ballantyne
Recorded at Soñar Studios in Ottawa, Canada
Photography by Neil & Kevin Ballantyne
© 2011