A Poet & A One Man Band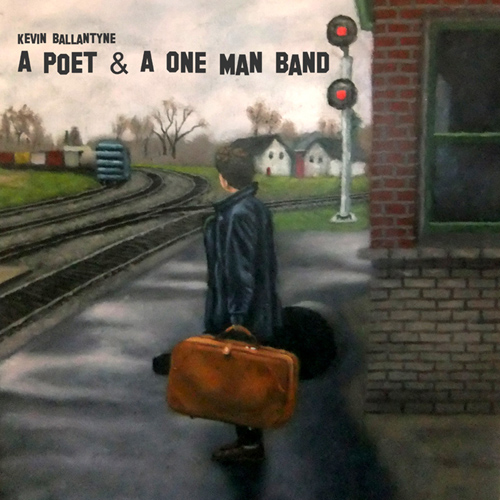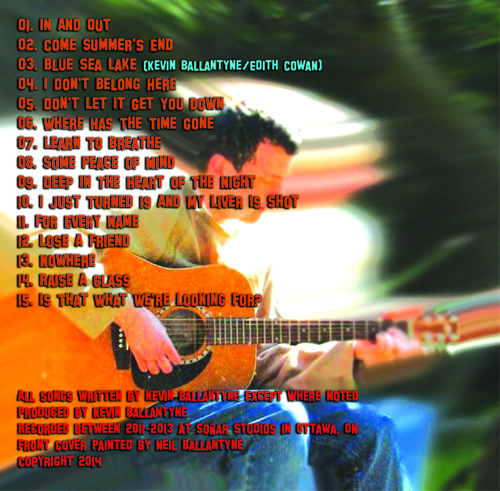 ---
Song List & Lyrics:
All songs written by Kevin Ballantyne except where noted
---
With my second album, A Poet & A One Man Band, the styles of music are more succinct. I've always liked both folk music and hard rock so most of the songs on this album are these genres. I did however sneak in a synth-pop inspired song on a dare ('Is That What We're Looking For?').
As with my first album, the lyrics are based on personal experience.
Some are still stories but their origins are from experiences and not just titles. In the case of 'In And Out', I wrote it after meeting someone on a train to Toronto. The gentleman, who had just been released from a detention centre, was caught smoking on the train and was detained at the next stop. 'I Just Turned 19 And My Liver Is Shot' is somewhat personal experience. A group of us were out celebrating the 19th birthday of the brother of one of my friends. This line came up sometime in the night.
The times spent at my cottage also feature in my songs and lyrics. 'Blue Sea Lake' is the name of the lake which my cottage resides. The words in the song are from a poem written by one of the original cottagers on the lake. In front of my cottage stands a tall hemlock tree where I used to stare out from the window and let my mind wander. This became the first line and theme for 'Come Summer's End'. 'Deep In The Heart of The Night' was the first song I wrote with words. They represent my wild imagination while I struggled to sleep in the dark nights at the cottage.
As for some of the other songs, 'Where Has The Time Gone?' I wrote when I turned 30, 'For Every Name' I wrote on Remembrance Day and 'Some Peace of Mind' was written for a friend who was going through some troubled times.
The painting was painted by my brother Neil and was inspired by the song 'Homeward Bound' by Simon & Garfunkel. The title of the album was a line taken from that song.
---
All instruments played or arranged by Kevin Ballantyne
Recorded between 2011-2013 at Soñar Studios in Ottawa, Canada
Front cover painted by Neil Ballantyne
© 2014